Adoration of the Shepherds - Gerard van Honthorst - 1622
So much beauty revolves around the birth of the Savior - especially in art and music. I'm still walking around singing "Messiah" in my head. I figured I would take a minute and share my two favorite Christmas paintings with you, 'cuz I'm all cultured and everything.
2nd Place
(Was my 1st place until a couple years ago.)
Adoration of the Shepherds
by Rembrandt van Rijn. Painted in 1646, there are others attributed to Rembrandt and some of his students, but this is my favorite. I love how dark it is, with the main source of light emanating from the Holy Infant Jesus. Of course, I'm a big-time Rembrandt fan. Whenever I go into a museum that houses any of his work, it is the first place I go.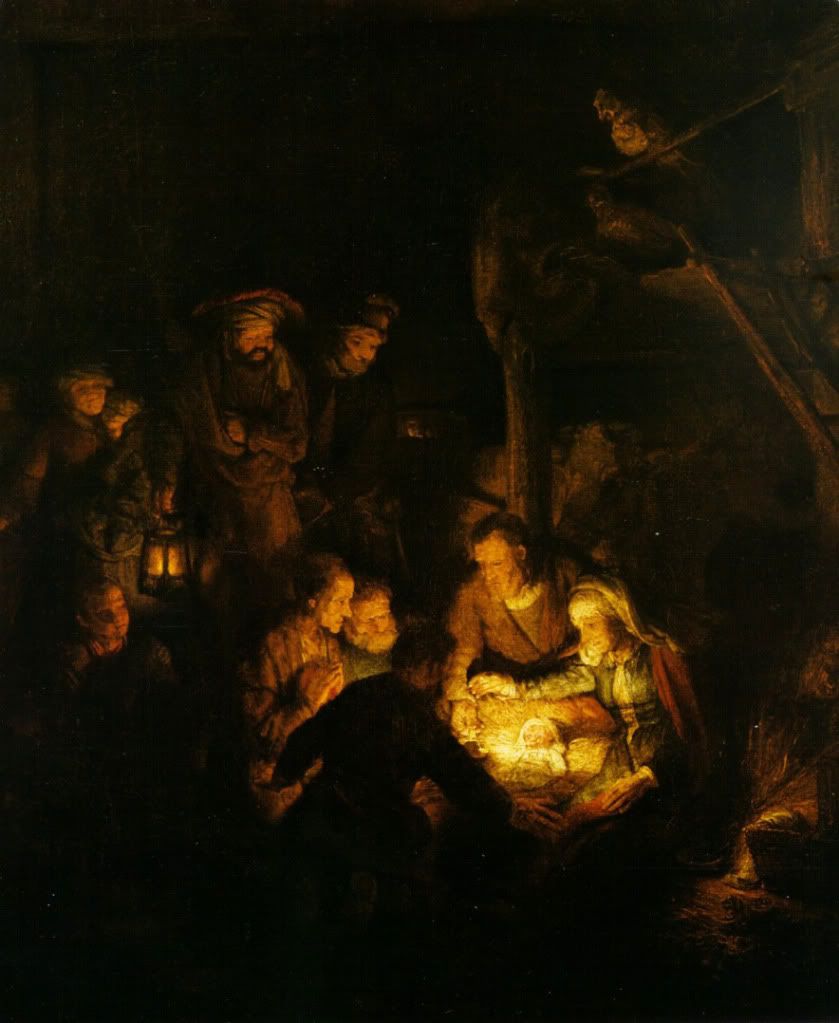 Flight Into Egypt
by Henry Ossawa Tanner. Tanner was an American painter, who focused on religious themes. He painted this in 1923. He also painted the beautiful picture I used in the post about the angel Gabriel,
here.
OK, so it isn't really a Christmas painting. it depicts Joseph, Mary and the baby Jesus fleeing to Egypt to avoid the slaughter of the innocents at Herod's decree.- even so, I think it feels like a Christmas painting.
I also have a story about when I first saw this painting. Once when I was traveling to Africa, I had a full day layover in NYC. I hopped on the subway and rode it to the city. I decided to kill most of the day in the Metropolitan Museum of Art. I went straight to the Rembrandts, and then just wandered around.
There was some construction going on at the museum, and one of the main staircases was closed, so I found a stairwell back in one of the corners and started down to the ground floor. When I reached the landing between floors, there were two paintings on the wall of the staircase. The first was this:
I kid you not. It was the actual Washington Crossing the Delaware painting. In a stairwell. I was stunned. But on the wall next to it, much smaller, was the painting that "spoke" to me. I stared at it longer than any other painting I have ever seen. I jotted down the title. And one day, when I feel rich enough, I'm going to buy a print of it. Remember, art is highly subjective, but I adore this painting.
Flight Into Egypt
Odds are that you won't agree, and I'm sure some of you will wonder why I don't have any pictures of Santa and baby Jesus, but that is a discussion for another day.
For more info on the
Flight Into Eqypt,
here is the Met's
webpage
.