As part of the Celebration of the Family Proclamation, we have been invited to consider a photo essay regarding some facet of the proclamation. I chose:
"By divine design, fathers are to preside over their families in love and righteousness and are responsible to provide the necessities of life and protection for their families."
Providing the necessities...hmmm.
A father's role is to provide the basics of life - food, shelter, education, as well as the spiritual essentials such as family prayer, family scripture study and FHE.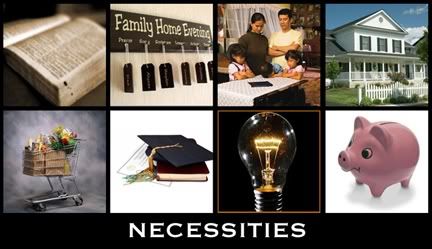 I'm pretty sure if there had been more room, they would have included most of these things.
I am not quite sure why these items weren't specifically listed. Perhaps it is because it is now a "worldwide church" and necessities vary from place to place.